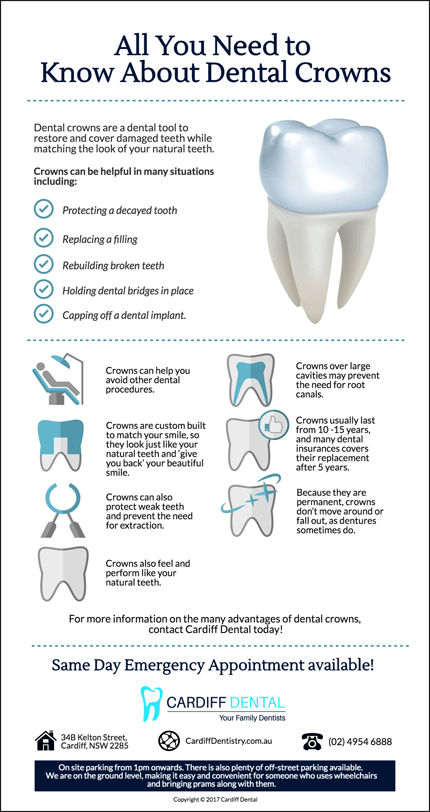 A dental crown is a tooth-shaped "cap" that is placed over a tooth – to cover the tooth to restore its shape and size, strength, and improve its appearance.
Some of the situations crowns are called for include:
Rehabilitating damaged teeth, so they look attractive and work naturally
Replacing a damaged or missing filling
Protecting a decayed tooth
As an anchor for dental bridges
As the cap over a dental implant to create a naturally functioning tooth
Dental crowns are similar to your natural teeth. Your Cardiff dentist can create them to match the size, feel, and shape of your existing teeth – so they fit into your bite and you don't have to worry when you bite or chew.
Crowns are flexible. The color, shape, and general appearance of a crown can be altered so that a crown can give you back your beautiful smile. Because crowns can be used in so many dental situations, they can help you avoid other more expensive dental procedures.
In some cases crowns can be used to cover particularly large cavities that might otherwise require a root canal procedure.
Longevity! The normal lifespan of a crown is up to a decade and they can last even longer. Check your dental insurance, because many plans include crown replacement if it is needed after five years.
Longevity means that crowns are permanently placed. They do not budge. Other appliances can crack, drop out, or be lost, but crowns stay there! Crowns can also be used to cover weak teeth and eliminate the need for their extraction. A crown can restore a tooth's original strength and function.
DENTAL CROWNS STUDY:
"The up to 25-Year Survival and Clinical Performance of 2,340 High Gold-Based Metal-Ceramic Single Crowns"
This study tracked the success rate of 2,340 crowns installed by one specialist.
It showed that at 10 years, the success rate was 97% (2,270 crowns that lasted over a decade).
At 25 years, the success rate was 85%.
That's 1,989 out of 2,340 crowns that lasted over 25 years.
Source: International Journal of Prosthodontics . 2013, Vol. 26 Issue 2, p151-160. 10p. 2 Color Photographs, 4 Charts, 6 Graphs.
Author(s): Walton, Terry R.
Reference Link: To access the article click here 
Dental crowns can be part of your path to better dental health! Visit your Cardiff Dental Office to learn more!
For premium quality crowns in Cardiff, contact us today on (02) 4954 6888.