Great Dental Gifts for Father's Day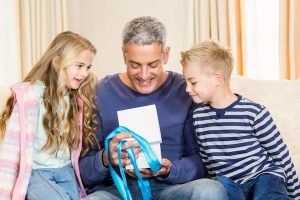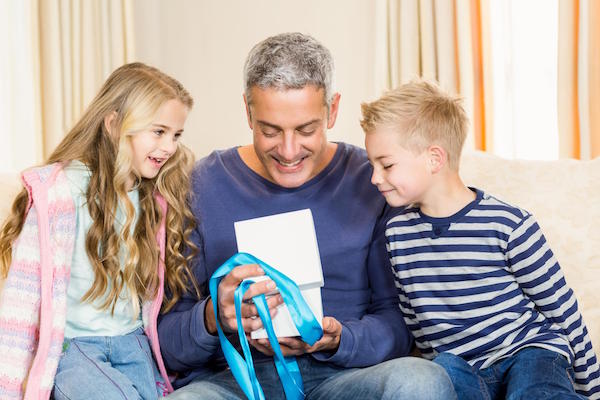 Father's Day is approaching fast (September, 1) and it can be challenging to find just the right gift for your Dad.
So in honour of all the dedicated dads in our community, Cardiff Dental has gathered together some tremendous dental gift ideas for the father or father figure in your life.
These gifts are sure to make his Father's Day extra special.
Please also encourage your father to get regular dental checkups, to keep him always healthy and strong. Heart health is particularly important for men.
Scientific research has revealed a link between bacteria related to gum disease, and an increased risk of heart disease. Gum disease affects nearly 50% of adults aged 30 and over. Gum disease is also quite sneaky – by the time it becomes painful, it is often advanced and more difficult to treat.
Here are some great dental gifts for your Father!
New toothbrushes without the hassle!
Give the gift of a new toothbrush (manual or electric toothbrush heads) just as dad's old one is wearing out. And you can get them shipped directly to your dad's door!
One option for this is GoodMouth, a company that will not only send replacement toothbrushes to your dad but also donates dental products to people in need. Give the gift of oral health to your dad and the needy!
Dental travel kit
If your dad likes to take regular camping trips, hunt, or fish, one excellent gift idea is a dental travel kit. Out on the road, your dad can't pack everything he might want, so a simple travelling solution can make it much easier to keep good oral hygiene on business trips and vacations.
Dental kits come in many different sizes, but they should contain the same essentials including a manual toothbrush, mini-sized toothpaste mouthwash, dental floss, and the phone number for Cardiff Dental.
If you have a creative streak, consider finding a waterproof travel bag and putting together a customised dental travel kit that addresses your dad's individual dental needs!
We have a same day dental emergency appointment available!
Mouthguard for Dad!
Wouldn't it be great to calm your mom's fears while helping your dad have fun? Well, there is one piece of dental equipment that may help you accomplish both of those goals if your father is an athlete.
It's the dental mouthguard, which can help athletic fathers keep their smiles even if they still play contact sports. Help your dad stay in shape and smile with a customised mouthguard!
DIY gifts
No matter what your situation is, it doesn't take much to put some DIY efforts into personalising some store-bought goods into a gift dad is sure to use and enjoy. Consider putting together a "dental health basket" chock full of the dental supplies and tools your dad finds useful.
You can also get creative and support your Dad's dental health by making a DIY mouthwash dispenser. The options are endless, as a quick look on the internet will show. Mouthwash holders can be created from jars, drink bottles, or anything that can hold liquid. Or, give dad a mouthwash flask for the road.
Give The Gift Of White Teeth!
At Cardiff Dental, we offer two types of teeth whitening, and our experienced cosmetic dentist Cardiff will help you choose the method that will help your dad achieve the perfect smile.
Professional Home Whitening System
Whitening kits are simple to use and cost-effective. Your Dad can see the results in as little as one or two weeks. With this method, you control the degree of whiteness that you want to achieve.
LED Whitening
Teeth whitening done at the office is carried out by our dental professional using an LED lamp for teeth bleaching. The process takes 1 to 2 hours, depending on the degree of whiteness your dad wants to attain.
Flavoured dental floss
Cardiff Dental recommends flossing at least once a day. To make flossing more fun, companies have made some crazy flavoured dental flosses, most of which can be found online. Here are just some of the available flavours:
Coffee and waffle flavour accompany bacon.
Flossing becomes a party with cupcake flavoured floss.
Bubblegum.
Grape.
Dill pickle. Briny and delicious!
A refreshing vegetarian-tasting floss.
Add some dressing to your cucumber!
This Father's Day don't get your dad the same tired gifts. No ties, cufflinks, or cheesy cards. Instead, show Dad you love him with a gift that keeps on giving – the gift of dental health.
Cardiff Dental are:
A local family owned and family run dental practice.
You have the option of seeing the same dentist every time.
Available to treat painful conditions on the same day
One of the very few dental practices that are accredited by QIP (Quality Innovative Performance) for meeting the National Safety and Quality Health Service (NSQHS) Standards.
Call (02) 4954 6888 or request an appointment today.