Smile Makeovers: Transforming Your Look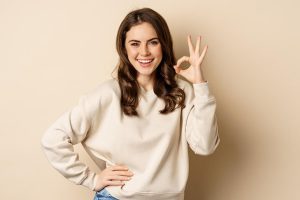 Wouldn't having straighter, whiter, and brighter teeth make you feel more confident?
A smile makeover can provide you with more than just a beautiful smile; it can also help you improve your overall oral health.
5 Smile Makeovers Options to Transform Your Look
#1. Teeth Whitening
Teeth whitening is an efficient way to brighten your teeth' natural colour without removing any tooth surfaces. It won't completely change the colour, but it will lighten the current tone.
Teeth might become dull or discoloured due to age or lifestyle behaviours.
Food and liquids can discolour the teeth on the surface. Smoking can also discolour your teeth.
The most prevalent form of tooth whitening is professional bleaching. At the first consultation, your dental experts will take impressions to create a whitening tray.
You'll use these whitening trays at home, filling them with bleaching gel and wearing them every 30 minutes to an hour. The therapy period is normally completed in two to three weeks.
Another whitening method is known as LED teeth whitening. The LED teeth whitening procedure is the safest and most effective solution to brighten a discoloured smile.
Depending on the level of whiteness desired, the process will take 1 to 2 hours.
The outcomes will astound you. At Cardiff Dental, we only use high-quality LED lamps and teeth-whitening gel that is safe and effective. We utilise gum protective material to reduce sensitivity before and after the process.
#2. Porcelain Veneers
Dental porcelain veneers are used to make teeth look better. It can change the shape, colour, and location of a person's teeth.
Dental veneers require less dental preparation and preserve more tooth structure. It is not recommended for patients who clench their teeth, bite their nails, or participate in other non-functional activities.
#3. Invisalign
With Invisalign, you can transform your smile. This approach is suitable if you are unhappy with your teeth because they are slightly misaligned and wish to fine-tune them.
You must wear them all day and night, remove them while eating, and maintain them clean.
Your dentist will create fresh trays for you and schedule many appointments with you. If you are unavailable during the week, we have weekend slots available.
#4. Braces
Dentists utilise wire-based gadgets called dental braces to correct crowded and misaligned teeth and jaws. Braces are incredibly effective at realigning teeth and repositioning jaws to create a beautiful, healthy smile.
Modern materials and technologies have made braces more comfortable. Braces can be beneficial to both teens and adults.
Braces work by gently exerting pressure on the teeth. Braces are often made up of small brackets held by rubber bands or a wire.
Your dentist will tighten the wire regularly to gradually reposition the patient's teeth and jaw. Newer materials move teeth with a moderate, steady force and often require fewer modifications.
#5. Dental Implants
Missing teeth have the most visible impact on your smile. Tooth replacement improves the appearance of your smile while also decreasing bone loss, which can change the shape of your face over time.
It also stabilises neighbouring teeth and restores full biting function.
Dental implants are the finest therapy for lost teeth because they replace the complete tooth from the roots to the crown.
Implants provide improved stability because they are surgically inserted into your jawbone. They also stimulate the jawbone, which supports bone health and keeps you looking young.
Smile Makeover at Cardiff
You should consider how you want to improve the appearance of your teeth if you're going to improve their appearance.
Your Cardiff dentist will be able to evaluate your smile before developing a treatment plan to assist you in accomplishing your goals. We can also talk about what is practically achievable and, of course, the costs.
Cardiff Dental is one of the very few dental practices that are accredited by QIP (Quality Innovative Performance)for meeting the National Safety and Quality Health Service (NSQHS) Standards.
Our Promotions
FREE Consultation
Teeth Whitening
Orthodontics
Invisalign
Dental Implants
To learn more about our smile makeover, make an appointment online with your Cardiff dentist or call us at (02) 4954 6888.