Dental Care at Cardiff Dental – What Can You Expect?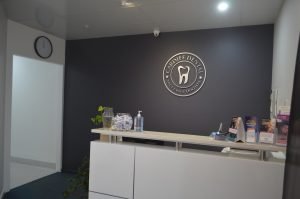 At Cardiff Dental, our mission is to give your full-care dentistry that is comfortable and affordable.
Consequently, we offer the highest level of care in a family-friendly and relaxed environment.
At the same time, we know that some people don't enjoy visiting a dental office, and some others have a phobia about it.
At Cardiff Dental, we work hard to create a pleasant and calm patient experience, from the first time you contact us (through our website or phone), until you get back home, happy with the treatment you have received.
Before Arrival
Cardiff Dental has put in the work to make your experience with us convenient and comfortable, even before you reach our offices.
We have a fully featured website that shares our location, equipment, and treatments. Our website also has a list of our promotions, which you can browse to see if any of them might help you.
We are conveniently located just off Main Rd, with onsite parking available after 1 PM and off-street parking available at all hours.
Our schedule is also extended for our patients with busy schedules – we offer hours until 7 PM on Tuesdays and Fridays, as well as morning hours on Saturday.
Our offices are on the ground level, which makes access easier for patients who are bringing prams with them, or who use wheelchairs.
If you have any questions or concerns about your visit, we are happy to answer them at (02) 4954 6888.
Your Dental Visit
When you visit us, you will be helped by our efficient front-desk, and will no doubt notice our comfortable and calming waiting room. This is on the reason that Cardiff Dental has been chosen as "The Best Dentist in Maitland" by Three Best Rated.
Three Best Rated hand-picked top 3 dentists in Maitland, NSW. Their 50-Point Inspection includes everything from reviews, reputation, ratings, history, complaints, satisfaction, trust, cost, and general excellence.
Our Team
Cardiff Dental is a helpful and friendly dental practice, which begins at the top with our dentist, Dr Sumanth Reddy Bagapalli (Sam Reddy).
He is a comprehensive cosmetic, implant, and family dentist who takes great pride in treating his patients and keeping their smiles healthy and beautiful.
He was trained at the Melbourne Royal Dental Hospital and received his registration in 2006.
Since that time, Dr Reddy has worked in various dental practices in Melbourne and acquired glowing recommendations from his peers and clients.
The rest of our staff, both in our surgery and in our front-office, are there to help you, and they are dedicated to that task.
Services & Treatment
Cardiff Dental is a "one-stop" shop for dental care, offering a wide range of services in family dentistry, cosmetic dentistry, orthodontics, and emergency care.
Here are only some of our treatments:
General services
Cosmetic services
Orthodontic services
Emergency services
Cardiff Dental offers dental emergency services during office hours from Monday to Friday and on Saturday. Your schedule will not keep you from our services!
Aftercare
Our care does not end when your treatment is done. Our aftercare begins as you receive advice from our dental assistants and front desk.
As you leave, we will also help you set up any follow-up appointments that might be necessary or schedule your next regular visit. We can also help you navigate issues of payment for your dental care.
To qualify, you simply have to have a MasterCard or Visa Debit or Credit Card, an Australian Driver's Licence (or other government photo ID showing address, and contact information.
The Child Dental Benefits Schedule is also available to help support dental treatment for qualifying children. This program offers $1,000 per two-year period.
Cardiff Dental is:
Contact us today on (02) 4954 6888 or request your appointment online. For more information, go to our contact us page.
We look forward to seeing you soon.